What is wake surfing? How does a wake boat work? What does it look like?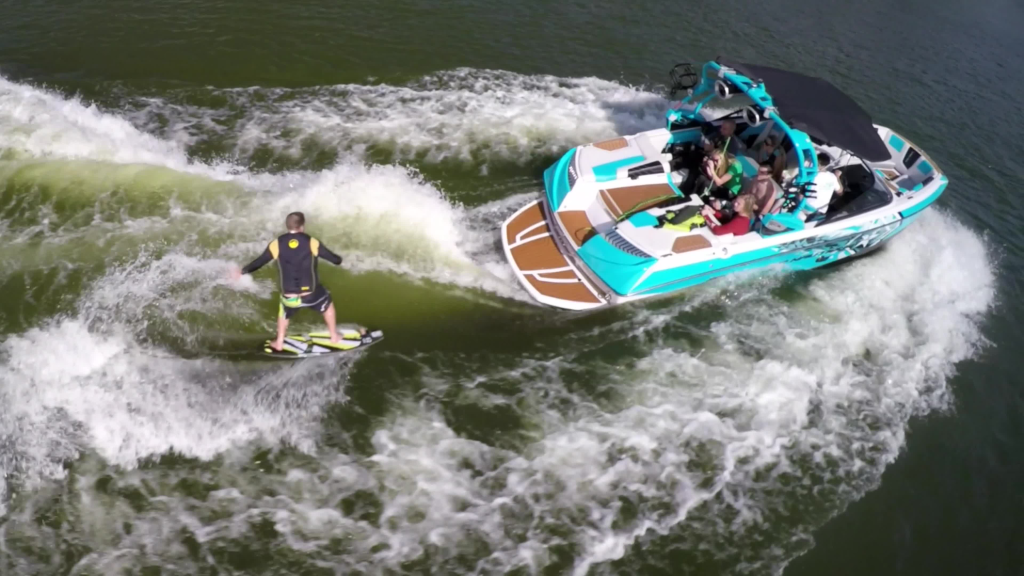 Recreational boating is seeing a shift towards larger, more powerful boats, and foremost among them are wake boats. The new designs of wake boats demand that special attention be paid to managing the potentially detrimental effects of these boats on our increasingly crowded, space-limited public waters.
The essence of this new sport, and a hint of its negative impacts, can be found in this recent press release from the wake surf industry:
Wakesurfing Has Never Been More Popular: These wake-throwing designs from MasterCraft, Malibu, Nautique, and Pavati provide an ocean-surfing experience on calm, inland lakes.
To see what wake surfing looks like in action, take a look at these videos:
A wake boat is any powerboat vessel which, by design or modification, has one or more functional ballast tanks, bags, compartments, containers, plumbing, hull design or devices, or other devices or systems used to increase the displacement of the vessel or otherwise affect its performance for the purpose of enhancing or increasing its wake while under power.

Wakesurfing is the activity of propelling a person, on equipment similar to a surfboard, forward with a boat's wake. The person may be holding a rope or free riding. Equipment used in this activity may include but is not limited to wake surfboards, wakeboards, stand up paddleboards, and hydrofoils.

Wakeboarding is a water sport activity performed by a person being towed behind a wake boat and using a surfboard, wakeboard, or similar device to ride behind the boat.

Wake Sport Zone is the area of a lake or pond that meets the Proposed Rules for use of wake boats for wakeboarding and wakesurfing.
The growing popularity of wakesports means their negative effects are felt throughout Vermont, and the world. As a result, state and local governments, communities, academic institutions, lake associations, and groups like our Responsible Wakes for Vermont Lakes seek to define the parameters under which these sports may be enjoyed, while at the same time protecting the safety and enjoyment of Vermont's citizens, the beauty and sustainability the state's lake resources, and the values of its private and public properties.
The adverse impacts of wake boats on water quality are significantly greater than those of other motorboats; a major concern with wake boats is their potential to release phosphorus into lakes, which reduces water clarity, increases the growth of AIS (aquatic invasive species), and contributes to cyanobacteria blooms. Wakesports performed too close to the shore introduce phosphorus from wave-induced shoreline erosion; additionally, in shallow water, the wake boat's powerful propeller slipstream can significantly disturb the lakebed, causing bottom sediments' resuspension, inducing phosphorous release and increasing the spread of AIS that propagate upon fragmentation, e.g., Eurasian watermilfoil.