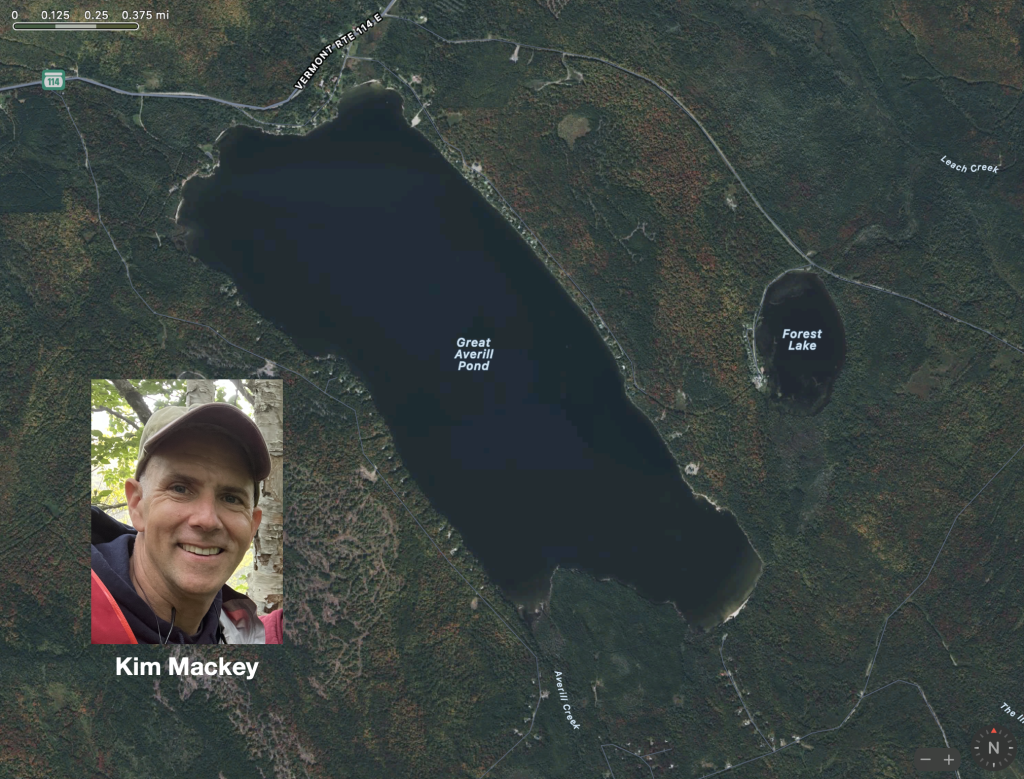 Great Averill Pond is located up by the Canadian border, in Essex county. At 828 acres, it is the ninth largest inland lake in Vermont. Among other things, the lake supports populations of brook trout, lake trout, and rainbow trout, along with about 100 seasonal camps occupied at times by homo sapiens. Responsible Wakes interviewed Kim Mackey, a wake boat owner and Averill property owner.
Kim, tell us about your history with Great Averill Pond.
I am a landowner on Great Averill Pond. Our camp has eight cabins on the north side of the lake. We are about 65 people over three to four generations who have enjoyed Great Averill Pond for over 51 years.
What do you think about wake boats?
We are in support of wake boat regulation. We are seeking even more regulation than has been put forth so far. We also support restrictions which further limit the number of lakes on which these boats can be used at all.
Why?
I bring to this discussion first-hand knowledge, because I am a wake surf boat owner — but not on Great Averill Pond. I don't bring my wake boat to Averill because it just doesn't belong in that setting. Wake surfing is a totally different activity than all the other things we do on this type of Vermont lake.
Tell us more about wake boats.
I'd like to help reframe the discussion and clarify some things about these boats:
Engine size. Wake boats are 400 horsepower minimum, up to 600 horsepower in a 20-to-24-foot boat. For comparison, a more appropriate size boat for Averill Lake is our 18-foot ski boat with its 150-horsepower engine.
Wave impact. The wave impact on the shore and loons and people has been dismissed at times as nothing more than what a big storm would do. We can probably agree that no one goes out kayaking or swimming or standup paddleboarding in a storm. And wake boats deliver these disruptive waves with no warning — like a rogue wave.
Ballast tanks. The ballast tank size is about 80 gallons, and there are three to five tanks per boat. It's impossible for those tanks to be emptied, and so the risk of them carrying aquatic invasive species is real.
How should these wake boats be regulated?
Wherever these boats are used, it will require great regulation and enforcement. The 200-feet-from-shore law proposal is silly; 500 feet is not enough; 1000 feet is getting close to protecting people wading, but not enough to protect the others on the water. Wake boats are not really balanced in their impact.  And the current proposal of finding 60 acres on lake which meets the criteria is not practical. The necessary area must be better considered in terms of lake size and shape.  
Do you have a lake wake story that you are willing to share? Let us know, and we'll help you develop it. Write to info@responsiblewakes.org.