Last night's hearing on the wake boat rule was a solid success for Responsible Wakes for Vermont Lakes. With 100 people in attendance at the Richmond Free Library, the Department of Environmental Conservation heard 44 speakers, 38 of whom supported a strong rule with an offset of 1000 feet or more. Four favored no rule at all, and only two spoke in favor of the 500-foot offset proposed by DEC.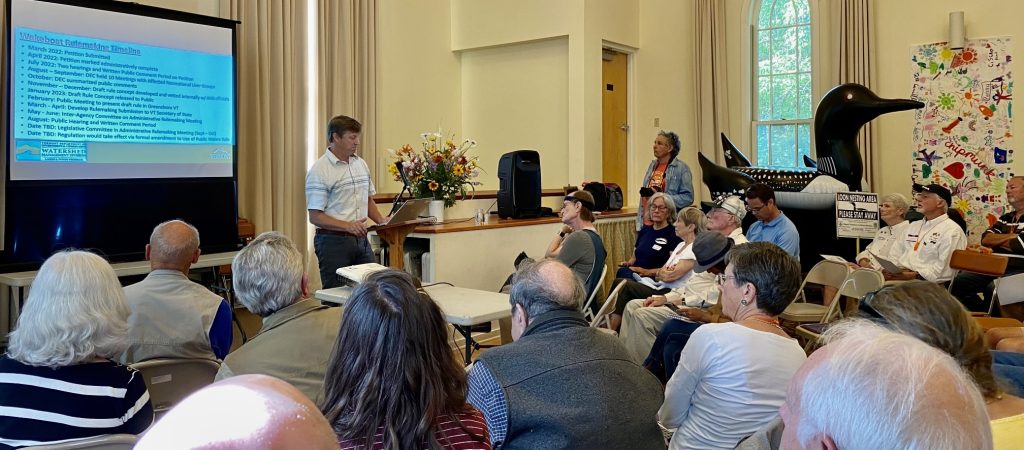 Sixty of your fellow supporters gathered at the library before the hearing to share stories and exchange ideas. They came from lakes all around Vermont: from Holland Pond to Lake Raponda, from Willoughby to Fairlee, from Elmore to Iroquois, from Shadow to Sunset, from Joe's Pond to Parker Lake. Surveying the scene was a large inflated loon contributed by Jamie Longtin of Sunset Lake.
We need you now to sign up to speak at the last hearing on Thursday, August 3. You may participate from the comfort of your home or camp since it will be held online from 5 to 7:30 pm. Even if you have spoken at previous hearings, or have sent a letter of support to the Agency of Natural Resources, please sign up to speak. Just a short piece, less than two minutes on why a strong, 1000-foot (or more) rule is necessary. You may use a comment you've submitted already. The more speaking slots that we fill, the more the count of public support tallies in our favor.
We need you now to send a public comment to the Agency. Again, the more comments for a strong rule, the likelier it will come to pass. Even if you have sent in a comment during previous rounds, you need to re-send it now for it to count in the official record. These must be submitted before August 10.
At the rally, we heard from…
Dan Sharpe of Lake Iroquois on the importance of our mission.
Thierry Guerlain from Joe's Pond on the damage caused by wake surfers there.
Joanne Hanowski of Caspian Lake on the science that documents the dangers of wakesports.
Will Melton of Lake Raponda on how nobody wants wakesports on the lake.
Jim Lengel of Lake Elmore on how a strong rule will benefit Vermont's economy.
Chris Owen from Holland Pond on the dangers to fish and wildlife.
Kim Mackey, from Averill Pond, who owns a wake boat in Wisconsin, on why most Vermont lakes are too small for wakesports.
Jack Widness from Lake Raponda on how our work here is part of Vermont's proud tradition of environmental leadership.
Tom Ward and Katherine Babbott from Lake Fairlee on why a 500-foot buffer is inadequate.
Meg Handler from Lake Iroquois on how a strong rule will benefit many and restrict but a few.